from Sharon Ledwith
Talk about a dessert that delivers, this divine cheesecake takes…well, takes the cake! Whether you're hosting the party or on board to bring something tasty, this dressed up treat will make heads turn, and mouths water. Perfect for holiday gatherings or celebrations, with a total prep and bake time of 5 hours and 30 minutes (includes refrigeration), this cheesecake easily serves a crowd of sixteen of your closest cohorts.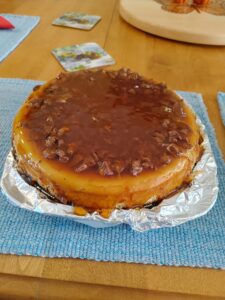 Toblerone Caramel Cheesecake
1¼ cups Oreo Baking Crumbs
¼ cup butter, melted
3 packages (250 g/8.82 ounces each) brick cream cheese, softened
¾ cup packed brown sugar
1 tablespoon vanilla
3 eggs
⅓ cup caramel ice cream topping
1 bar (100 g/3.52 ounces) Toblerone Swiss Milk Chocolate, coarsely chopped
Preheat oven to 350° F.
Mix crumbs and butter in a small bowl. Press mixture onto bottom of 9-inch springform pan.
Beat cream cheese, sugar, and vanilla in large bowl with electric mixer until well blended. Add eggs, 1 at a time, mixing on low speed after each just until blended. Pour over crust.
Bake 40-45 minutes or until center is almost set. Run knife around rim of pan to loosen cake. Cool cake before removing rim. Refrigerate 4 hours.
Spread caramel topping over cheesecake just before serving. Garnish with chopped chocolate. Enjoy!
While you're waiting for the cheesecake to set in the fridge, take some well-deserved 'me time' along with a peek at my latest time travel release.
True freedom happens only when you choose to be free.
Eleven-year-old Drake Bailey is an analytical thinker and the genius of the Timekeeper crew. However, no logic or mathematical acumen can change the color of his skin, or prepare him for this third Timekeeper mission in antebellum Georgia. To survive, Drake must learn to play the role of a plantation slave and when confronted with the brutality, hatred, and racism of the deep south, he'll have to strategically keep one move ahead of his sadistic captors to ensure his lineage continues.
In a dark world of Voodoo, zombies, and ritualistic sacrifice, the Timekeepers must ensure a royal bloodline survives. Can Drake remove both literal and figurative chains to save both himself and a devout slave girl from a terrible fate? If he can't summon the necessary courage, humanity could stand to lose one of its greatest leaders.
Sharon Ledwith is the author of the middle-grade/YA time travel series, THE LAST TIMEKEEPERS, and the teen psychic mystery series, MYSTERIOUS TALES FROM FAIRY FALLS. When not writing, researching, or revising, she enjoys reading, exercising, anything arcane, and an occasional dram of scotch. Sharon lives a serene, yet busy life in a southern tourist region of Ontario, Canada, with her hubby, one spoiled yellow Labrador and a moody calico cat.
Learn more about Sharon Ledwith on her website and blog. Stay connected on Facebook and Twitter, and Smashwords. Look up her Amazon Author page for a list of current books. Be sure to check out THE LAST TIMEKEEPERS TIME TRAVEL SERIES Facebook page.