THANKSGIVING MEMORIES
from Emma Lane
Thanksgiving is family, food, and thankfulness. It's when you have this homing urge to join your people over a huge roasted turkey. When you were ten you punched your cousin in the nose for some remark he made. When you were eighteen, you were bored and wishing to be somewhere else, but mom made you stay. When you were twenty-eight, you were setting up the children's table. And so it goes right down to Grandpa who at 90 announced he didn't need to watch his cholesterol any more and reached for the butter dish. (I loved it when he did that.)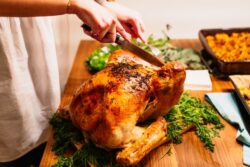 Our turkey is carved in the kitchen, makes it easier for serving. But when the grandchildren were young, they always expected that rooster to make an appearance at Thanksgiving. It's a tradition as such. They are grown-ups now, but they still search the china cabinet for the collection of salt 'n pepper shakers, each person has his/her favorite set. Our dining room table is custom made wide at the bottom to seat two people comfortably. As a result, I have no matching pad. Straw oversized placemats do an admirable job of protecting the wood surface from the heated dishes. I use a table cloth, but still enjoy the colorful cloth placemats to echo the vibrant Fall colors. With the addition of fruit cups, water glasses, and matching candles, the table arrangement is complete, waiting only for the train of hot dishes and the blessing before the feast is begun.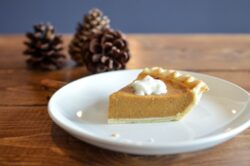 Turkey for everyone! White for the kids and dark meat for my hubby and me. They have always been convenient preferences. We reserve baked ham for Christmas dinner. Lima beans (butter beans) for my son, green bean casserole for my daughter. Each person has a favorite. I love yellow squash while my hubby adores sweet potato soufflé. My daughter makes all the pies, usually pumpkin and apple. The grands like the fruit cups that are sometimes surrounded by red Jell-O and sometimes by whipped cream. Dressing?? We make a raison (Crasins substitute) and walnut type topped by a couple of baked chicken parts. The recipe changes almost every time. There is a fresh veggie plate with tomatoes, celery, carrots, and sliced zucchini for nibbling. Other dishes may be added each year.
Once I had an idea to bake a mid-sized (huge) Hubbard squash and stuff it with a mixture of squash, onion with a touch of maple syrup topped with scrambled southern style sausage. It was so tasty, but a bear to get to the table. I dropped it from the menu. What memories does your family love each Thanksgiving get together?
Happy Thankful Day to you and yours from my home to yours.
Emma
How about a glimpse into my new Cozy Mystery, MURDER AT THE LOOKOUT while you digest your feast?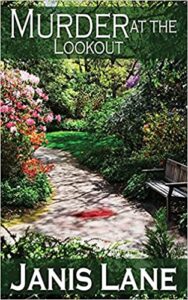 When is it not fun to be a blond?
What happens when a blond beauty hits town like a tornado stirring up memories and causing turmoil? Detective Kevin Fowler and his wife, the former Beverly Hampton, owner of the local newspaper, are settling into blissful married life. Although Beverly is sanguine over the demand on Kevin's time by the good people of Hubbard, she is more than dubious when his duties include the escort of a drop-dead gorgeous female from his past.
There is some concern over the persistent vandalism of residential mailboxes, but an infamous arsonist has decided peaceful but dull Hubbard would make a great place from which to operate. He brazenly locates down the block from the detective and his wife.
What bait and tackle shop in the village has a dual purpose? Kevin ponders why two goons have invaded town shooting at and attempting to kidnap and murder three women. A state patrolman, aptly nick named Rooster, teases Fowler at the riotous scene of a traffic accident where the press, not the police, wins the day.
Another mystery and adventure with a satisfying ending unfolds in peaceful Hubbard, New York, small-town Americana, where Detective Kevin Fowler keeps an ever-vigilant watch.
Emma Lane is a gifted author who writes cozy mysteries as Janis Lane, Regency as Emma Lane, and spice as Sunny Lane.
She lives in Western New York where winter is snowy, spring arrives with rave reviews, summer days are long and velvet, and fall leaves are riotous in color. At long last she enjoys the perfect bow window for her desk where she is treated to a year-round panoramic view of nature. Her computer opens up a fourth fascinating window to the world. Her patient husband is always available to help with a plot twist and encourage Emma to never quit. Her day job is working with flowers at Herbtique and Plant Nursery, the nursery she and her son own.
Look for information about writing and plants on Emma's new website. Leave a comment or a gardening question and put a smile on Emma's face.
Stay connected to Emma on Facebook and Twitter. Be sure to check out the things that make Emma smile on Pinterest.